Colleges and Universities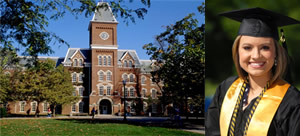 Today's Colleges and Universities do an extraordinary job recycling. On average, each institution recycles close to one million pounds of material every year. Including Nationwide Foam in your Recycling Strategies will have a dramatic impact on your recycling goals.
Nationwide Foam has the ability to greatly enhance your recycling statistics without increasing expenditures. For example, when replacing as few as four average sized roofs on campus, an additional 100,000 lbs of material, 10% of the yearly average, will be diverted from the local landfill and recycled.
Nationwide Foam will track all of the re-roofing material diverted from landfills; and provide real time updates outlining the total number of pounds and square feet of material diverted from landfills. You will have secure web access to monitor your progress and your recycling acheivements.
Nationwide Foam's College and University Recycling Recognition Program recognizes those institutions that are innovative and recycle their re-roofing debris!
Customer Satisfaction
To insure customer satisfaction, Nationwide Foam sends a Field Representative to each job site to confirm that the foam removal and loading is proceeding smoothly.
The Field Representative also performs a basic inspection of the foam coming off the roof. This enables us, based upon the type of foam, to send the material to the appropriate Nationwide Foam destination facility for reprocessing and recycling.